The US dollar strengthened following the FOMC September meeting
The Fed sees the funds rate higher for longer
Ethereum should hold above $1,400 for the bullish bias to persist
This year had two distinct parts for financial market participants – one characterized by the dollar's weakness and one dominated by the dollar's strength. 
The US dollar runs the show both in the traditional and cryptocurrency markets. EUR/USD is the best example of the correlation between the two markets. 
It opened the year at 1.06, rallied to 1.12, where it peaked during the summer, and then gave up its gains. The same dollar cycle may be seen in many cryptocurrencies. 
For example, Ethereum rallied from the start of the trading year, peaked at $2,000, where it met resistance, and then corrected. Therefore, cryptocurrency traders may want to focus on the dollar's direction in order to position on the right side of the cryptocurrency market. 
The Federal Reserve's September meeting did not change the dollar's course
On Wednesday, the United States Federal Reserve released its monetary policy decision. It chose to keep the funds rate unchanged as the latest inflation news is encouraging. 
Market participants wildly expected the decision, so the focus shifted to the press conference. Jerome Powell was hawkish during the conference in the sense that it kept all the options on the table, including further rate hikes. The hawkish part was that he implied that future rate cuts may not be as many as in the past. In other words, interest rates would remain higher for longer. 
Naturally, the dollar rallied. 
Ethereum is trapped in a tight range
Ethereum is one of the most popular cryptocurrencies. Also, it is very liquid compared to other cryptocurrencies. 
Before the rally that started in 2023, Ethereum formed a contracting triangle. The good news is that such triangles appear at the end of complex corrections.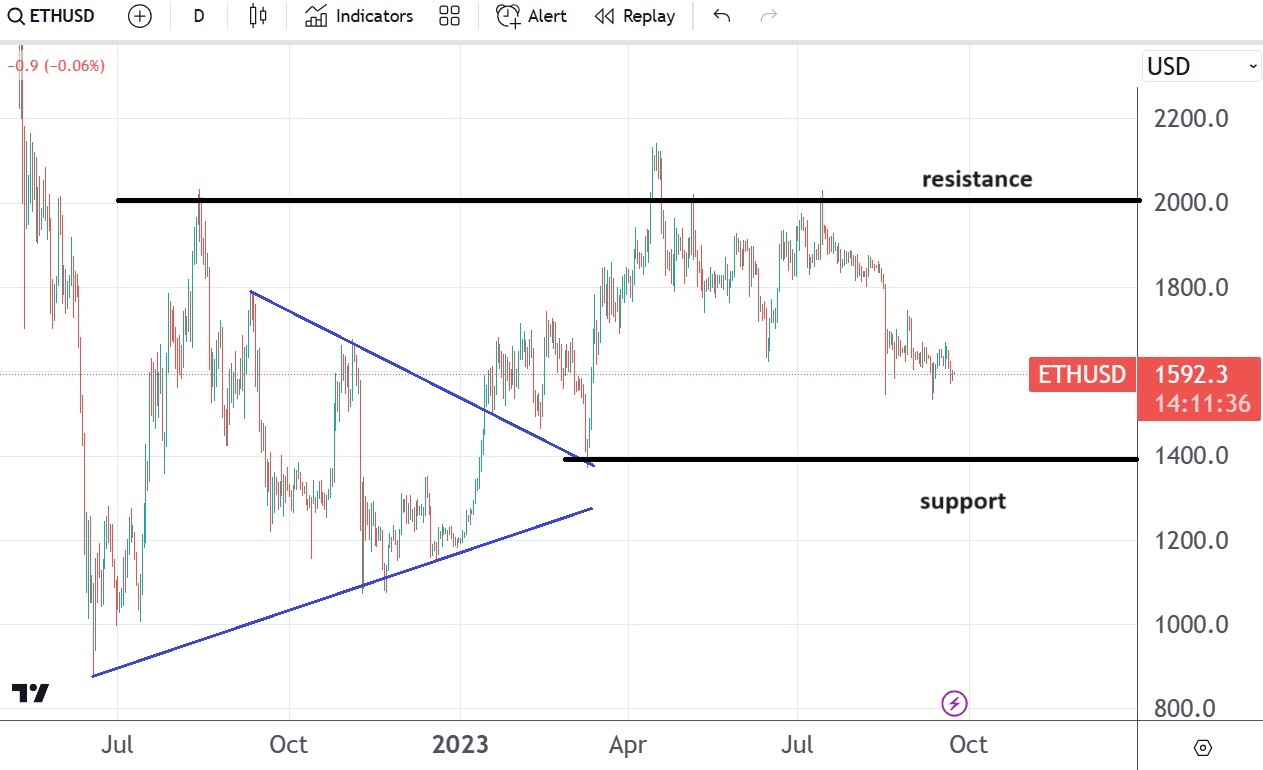 It means that if they act as reversal patterns, as is the case here, the new move that follows is part of a different pattern. 
The chart above shows that Ethereum corrected 50% from its highs but remains in a relatively tight range. By tight, one should refer to the historically high volatility in the cryptocurrency market. 
Bulls may want to wait for Ethereum to close above $2,000 before going long. Also, they would want to see Ethereum holding above the $1,400 support area. 
On the other hand, bears may want to see the market dropping below the support area provided by the $1,400 level. A drop to $1,000 might be in the cards on such a move. 
For more news at Break'n News – click here
Break'n Pics – Click here for Free Stock Photos
GoCoin – Latest Cryptocurrency News and Trading