Ripple delivered triple-digit returns so far in the trading year
Bitcoin consolidates around the $30k level
Ethereum is up more than 50% YTD
During the summer months, trading slows as financial markets usually enter consolidation. The cryptocurrency market is no different – look at Bitcoin, and its inability to convincingly hold above $30k tells everything. 
As such, this is the best time to look back and see which cryptocurrencies have outperformed the US dollar in the first seven months of the year?
The chart below shows some dispersed performances. While some cryptocurrencies have rallied, others remained flat. In other words, the crypto market is no different than the stock or the FX market from this perspective, as it is equally important to find the right asset to invest in.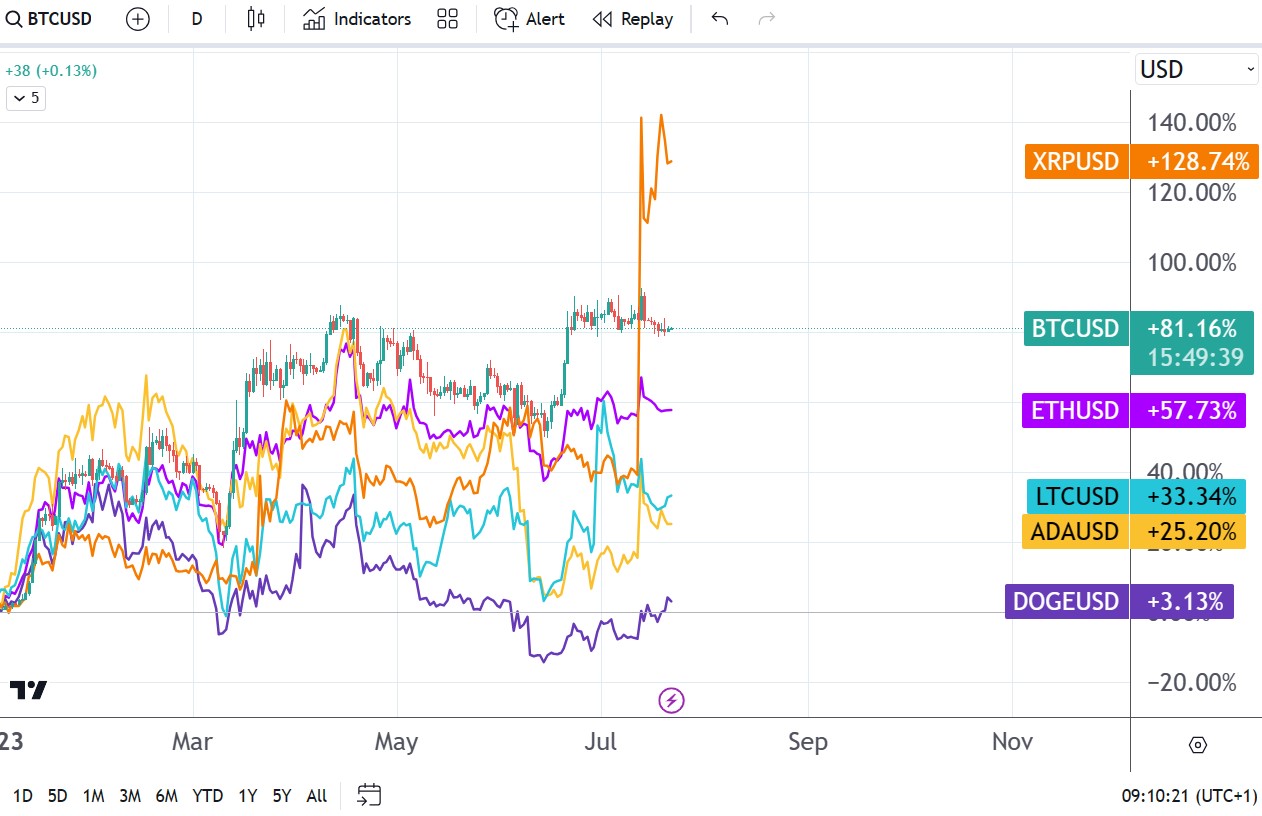 Ripple leads the pack
Ripple is the single major cryptocurrency to have delivered triple-digit returns YTD. Sure enough, the bulk of the gains came from the reaction to a recent ruling saying that Ripple is a security when sold to institutional investors. 
The good news, though, is that the spike higher was not retraced. Instead, the market consolidated at those higher levels, telling us that this is more than just a short squeeze. 
Bitcoin's YTD performance exceeds 80%
For most of the time in 2023, Bitcoin delivered the biggest return. It rallied right from the start of the year, but the rally stalled recently. 
Bitcoin has a hard time breaking and holding above $30k. Its performance this year is closely related to the US dollar's performance. 
For instance, despite the Fed hiking the funds rate several times this year, the EUR/USD trades close to its highest levels for the year. Hence, the dollar's weakness transpired in other markets, including cryptocurrency.
Ethereum delivered more than 50% return to its investors
Ethereum is in third place, with a return of more than 50% since the start of the year. After initially rallying with Bitcoin, it gave up more of its gains during consolidation. 
For more news at Break'n News – click here
Break'n Pics – Click here for Free Stock Photos
GoCoin – Latest Cryptocurrency News and Trading