Bitcoin (BTC) is positioned for further downside as a new Weekly Close below the 200-week moving average signals.
BTC rejecting from above $26k would welcome bears to the party as double-confirmation of the breakdown.
According to crypto analyst Rekt Capital, the 200-week MA is a robust resistance zone. 
As Bitcoin bulls face rejection from above $26k, a top analyst has pointed out the benchmark cryptocurrency's price faces fresh downside pressure.
BTC price is currently 2.4% up in the past week, but has failed to break past key resistance around $26,600. The breakdown to lows of $24,800 last week amid negative regulatory headlines appears to have only emboldened bears further.
Bitcoin positioned for downside
According to crypto analyst Rekt Capital, the technical outlook for BTC suggests more weakness is likely. This is after a new weekly close below the 200-week moving average, which signals a "double confirmation of [a] breakdown," the analyst noted.
Last week, Bitcoin price recovered from lows of $24.8k after the market reacted sharply to the SEC's lawsuits against crypto exchanges Binance and Coinbase. Commenting after the upside, Rekt Capital suggested that Bitcoin had "run straight into the 200-week MA"
He noted that if bears managed to turn this zone into new resistance, there was likelihood BTC could see a "two-step breakdown confirmation." Such a price scenario was likely to result in further downside pressure.
"Technically, BTC is positioned for downside. Why? Because it has produced another, new Weekly Close below the 200-week MA. As a result, $BTC has shown double-confirmation of breakdown from the 200-week MA. Continued rejection here could send price lower," he tweeted on Monday, pointing to last week's prediction.
Here's a chart the analyst shared, showing Bitcoin's rejection at both a downtrend line and the 200-week MA.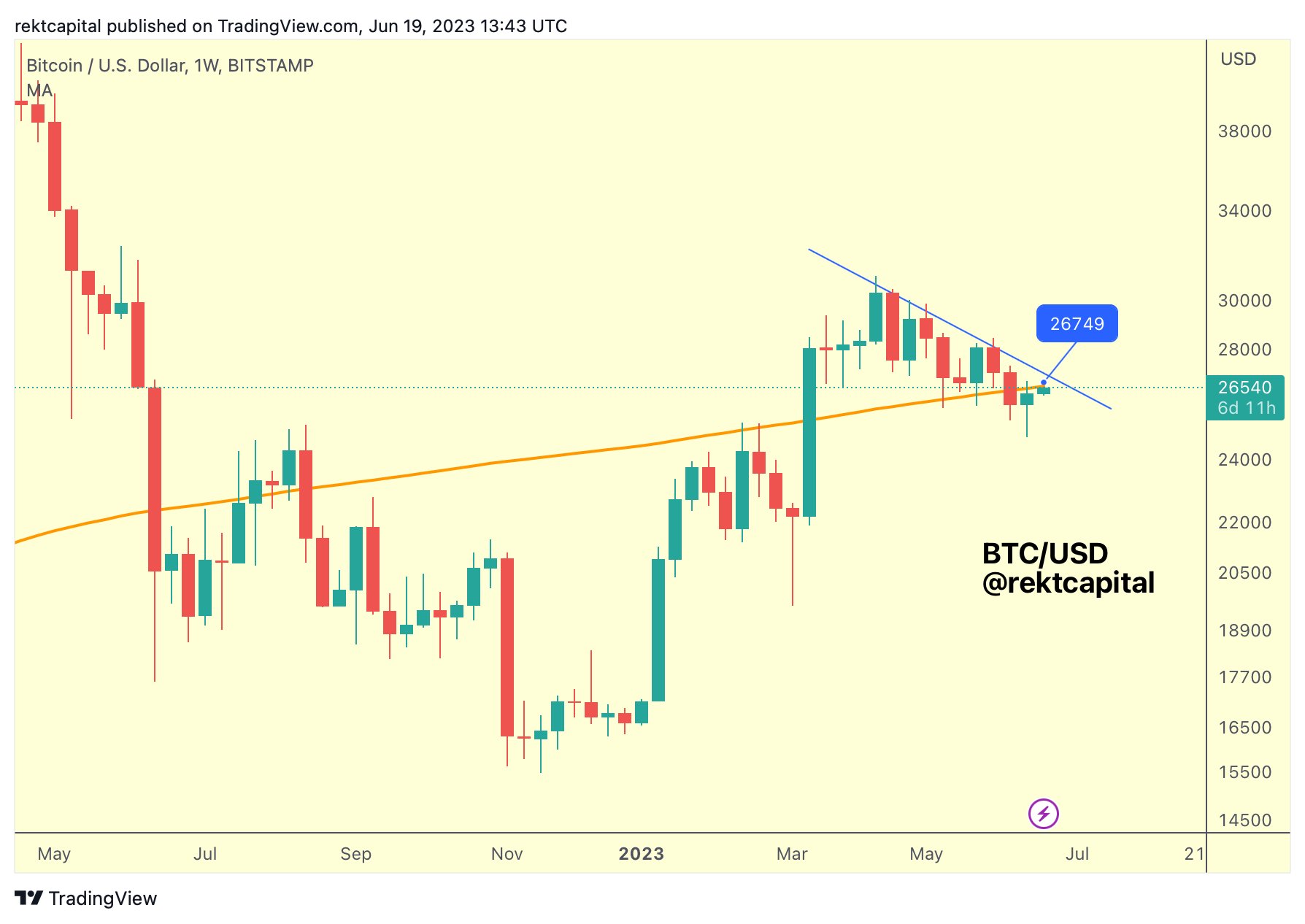 If Bitcoin gives up the $26k level again, a run to June lows could open up room for more losses. However, as BitMEX founder and former CEO Arthur Hayes pointed out last week, its likely crypto will hit the pain of an extended sideways action before a new trigger sets up an "autumn rally."
As CoinJournal reported, the BitMEX founder believes the trigger will be retail trading, and a big possibility is this next bull market is led by the Chinese trader. BlackRock filing for a spot Bitcoin ETF could also be a significant tailwind in coming months.
For more news at Break'n News – click here
Break'n Pics – Click here for Free Stock Photos
GoCoin – Latest Cryptocurrency News and Trading