Key Takeaways
The SEC is suing Paxos, the issuer of Binance's stablecoin, BUSD
The stablecoin is to be phased out, with no new tokens minted 
Over $1 billion has been redeemed in the three days since the announcement
BUSD is responsible for one-third of the trading volume on Binance
Tether is the big winner, being based offshore, and has jumped to recapture 50%+ of the market, with that mark bound to rise 
I wrote a deep dive last October analysing the stablecoin wars. It's time for a serious update to it because things have…happened. 
At the time, the horse making the biggest gains was none other than Binance's BUSD. The flagship product of the biggest exchange on the planet, Binance had bolstered its market share significantly by delisting several other stablecoins from its exchange, including USDC. 
It also announced the auto-converting of customer holdings from USDC into BUSD, a move I was surprised didn't irk people more, to be brutally honest. 
Anti-competitive? Sure, absolutely. But a strong business move regardless, and BUSD received a nice kick off the back of it. The below graphic show how it ramped up as a result – hit "Play Timeline" in the top left to see it wrestling market share from its rivals. 
The party is over 
But this week brought a knock on the door. Who is the one who knocks? The SEC. 
Authorities came in hot, with the bombshell announcement that the SEC is to sue Paxos, who issue and manage the BUSD stablecoin. A violation of good old security laws appears to have drawn their ire.
Paxos will no longer issue the BUSD stablecoin, meaning that the world's seventh-largest cryptocurrency – and third-biggest stablecoin – will disappear. 
Well, more like fade away. Paxos has confirmed that BUSD redemptions will be honoured through at least February 2024, but no new tokens will be minted. Binance, where one-third of the volume is conducted through BUSD, will gradually phase out BUSD pairs in favour of other stablecoins.
BUSD peg wobbles but is swiftly restored
BUSD fell off its $1 peg, despite assurances from Paxos that all tokens were backed up by reserves and necessary audits have been passed. It hit $0.995 immediately after the announcement on Monday. 
However, it has since recovered, with no shortage of arbitrageurs snapping up the opportunity for a little spread. At time of writing, it is training at $0.9999 and nothing seems askew.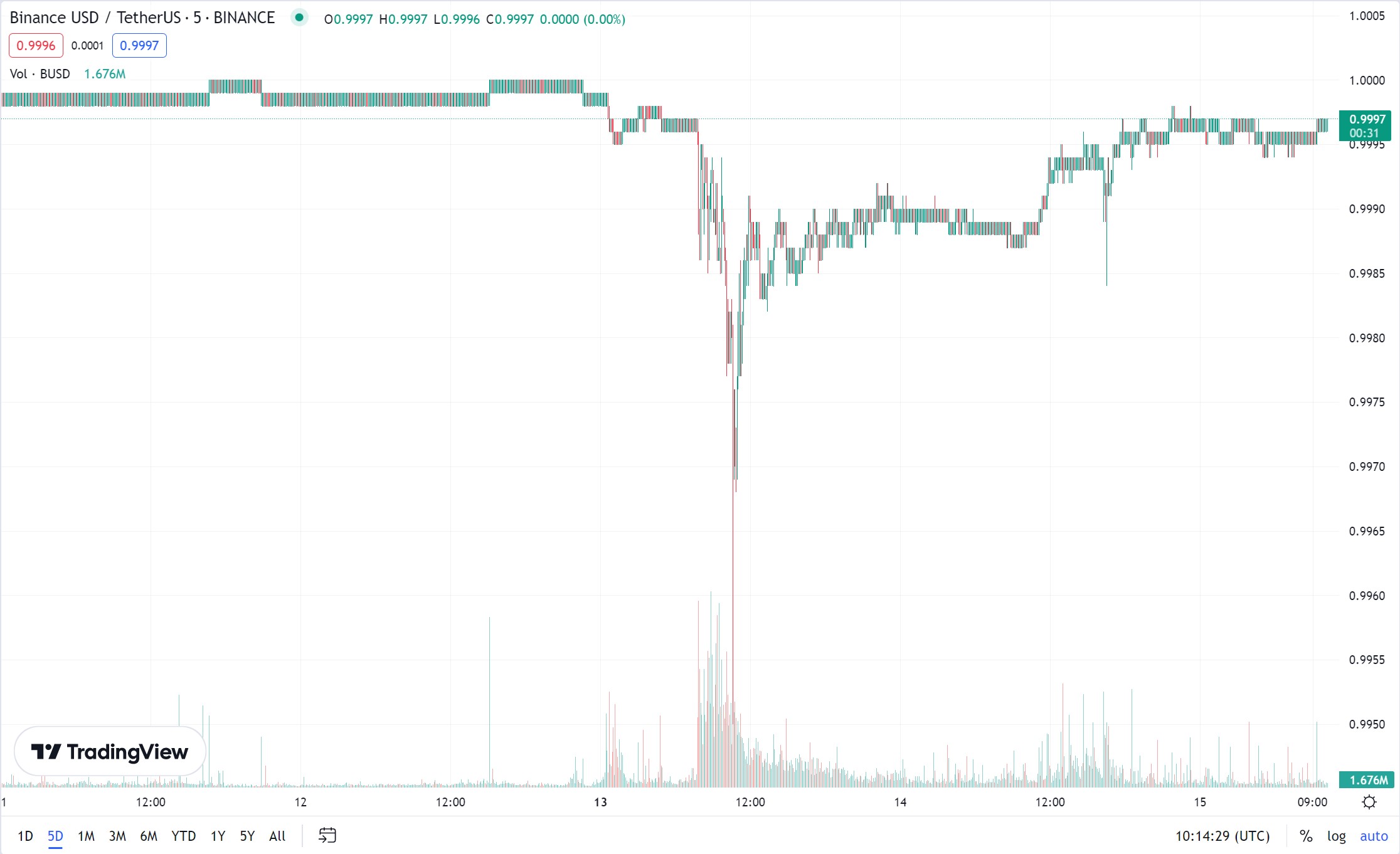 So let us be clear. The Binance peg remained pretty stable, with the market not really ever genuinely fearing for its health. Indeed, in looking back over the history of BUSD (are we already talking in the past tense?), the peg has never really been an issue. 
What the above chart also shows is that traders are already bidding their adieus to BUSD. Paxos has already redeemed over a billion dollars in BUSD since the announcement. 
What next for Binance?
Binance will be fine. Sure, their ambitions for global takeover may have pulled back a bit, but they'll simply flip over the other stables. CEO Changepeng Zhao did confirm the exchange would continue to support BUSD while it is phased out, acknowledging that he would expect users to migrate to other stables over time.  
https://twitter.com/cz_binance/status/1625067495760560128 
Zhao later elaborated on the incident on Twitter Spaces, putting notable distance between the exchange and BUSD, something he has not done so perceptibly before.
"BUSD is not issued by Binance," said Zhao. "We have an agreement to let (Paxos) use our brand, but that's not something that we created."
"With BUSD gone, BUSD slowly winding down over time, we will continue to work with more stablecoin issuers or creators," Zhao said. Translation: expect USDC to return to Binance screens and a growth in share for Tether. 
Is this good or bad for other stables?
So, what about the rest of the gang? Should they quake in their boots, with regulators clamping down on the industry at large? Or should they pop then champagne, with a growth in market share inevitable? 
Well, it depends. 
Other US-based stables may be concerned. Circle, issuer of USDC, will be frantically assessing whether its own product is now a security, and whether regulators will look harshly upon it, too. It feels like it's one of the most oft-asked questions in the space – "what constitutes a security?" And nobody really knows. But hey, that's the state of crypto and regulation right now. 
The big winner? Tether. The most controversial coin in the space, the much-discussed Tether has the massive advantage in that it is based offshore. And it has already shown, with its market cap jumping $1 billion in the 24 hours post this fiasco alone. 
USDT opened February with a market cap of $67.8 billion. It is now $69.5 billion.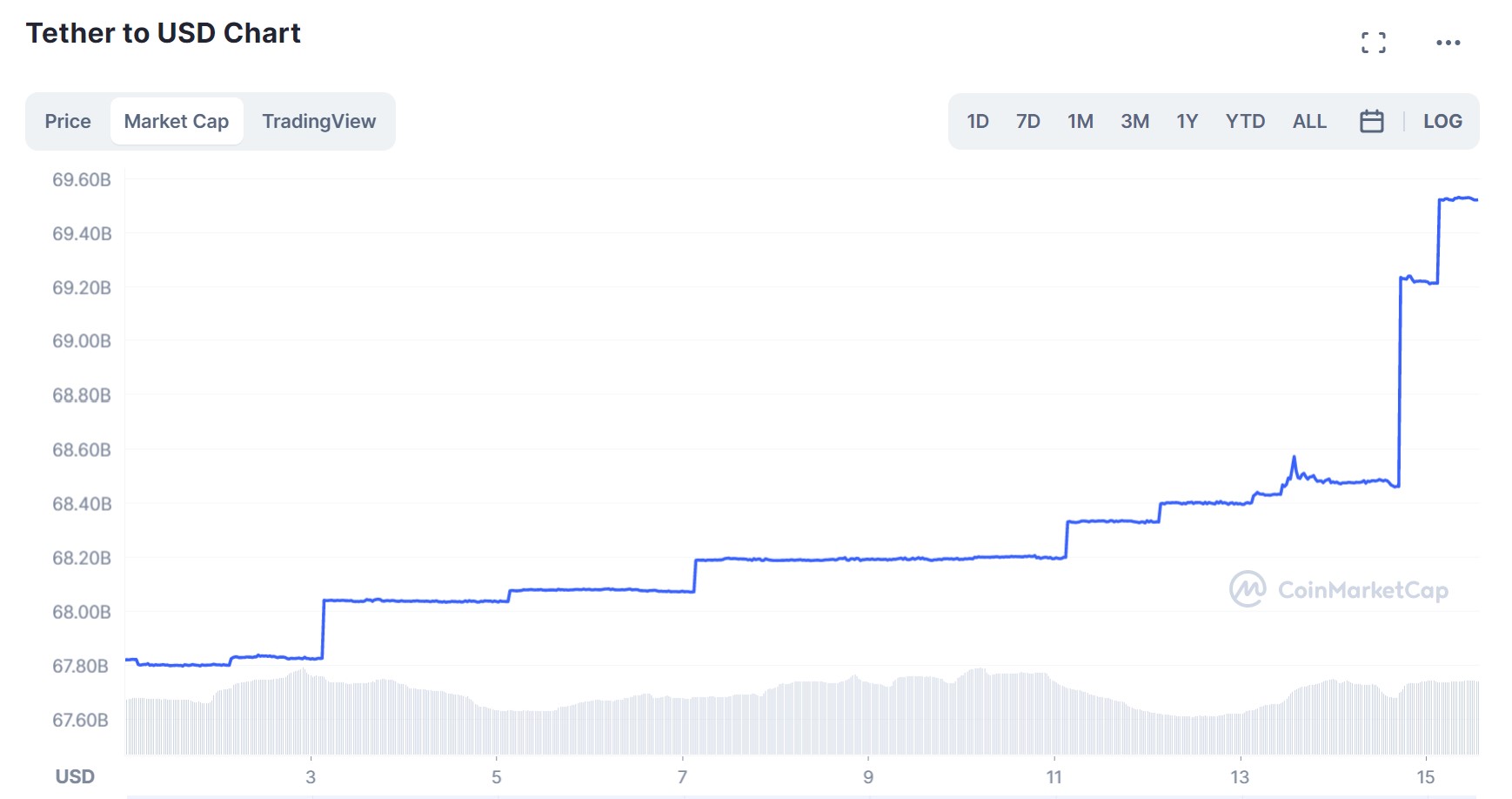 USDT Market Cap, February, via CoinMarketCap
It's not just BUSD share that Tether has been hoovering up. USDC also saw outflows as investors fear it could be next in line for a clampdown. Plotting the market share of the various stablecoins below shows that Tether is now again above 50% dominance. 
And so, we are now in a place where the cryptocurrency industry, which I have often criticised for being significantly more centralised than it is made out to be, is bound to rely even more upon one party – Tether. 
Of course, this is more concerning given Tether's tumultuous history and ongoing concerns over reserves, which I also crafted up a deep dive on last year. Whatever your thoughts on the controversy, it's hard to argue that the ongoing discussion and lack of transparency which causes the discussion in the first place is unhealthy for the industry at large. 
For better or worse, however, that is where the industry currently sits. With the bulk of "decentralised" finance running on USDT, USDC and other centralised stables, it again emphasises how centralised the system is, with very real central points of failure. 
While that centralisation was already stark, the real concern coming out of this development with BUSD is that concentration is now about to grow even more. 
The industry's reliance on Tether is only going one way – up.
For more news at Break'n News – click here
Break'n Pics – Click here for Free Stock Photos
GoCoin – Latest Cryptocurrency News and Trading