Bitcoin finds support at $20k 
Many cryptocurrency companies had exposure to SVB 
Bitcoin investors should keep an eye on the S&P 500 and the Fed
Cryptocurrency investors had a rough 2022. Bitcoin and other major cryptocurrencies trended lower, affected by the FTX failure, which triggered a loss of faith in the industry.
But the market started 2023 on a strong note. At one point, Bitcoin traded above $25k in February, after only a couple of months earlier, the price sat below $17k.
However, the enthusiasm faded away quickly. Bad news, once again, weighed on Bitcoin. First, Silvergate Capital, a major banker to the crypto industry, announced that it would liquidate its bank. Hit hard by the FTX bankruptcy, it closed the bank.
Second, Silicon Valley Bank collapsed on Friday. A bank run triggered the 2nd largest bank failure in the US history, and the repercussions spread to the cryptocurrency market, too, as SVB was popular with crypto companies.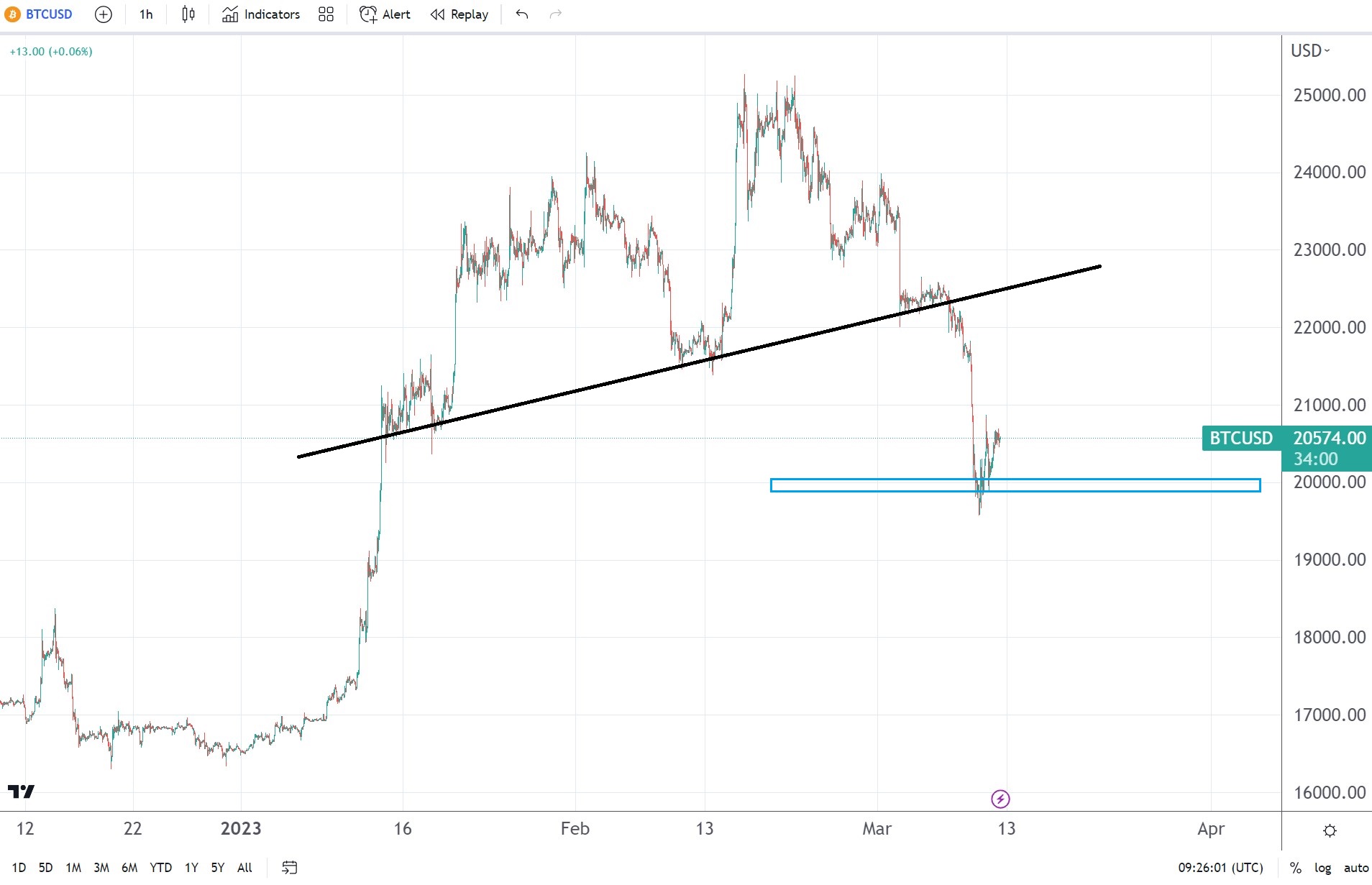 Bitcoin finds support at $20k
After failing at $25k in February, Bitcoin started to give up some of its 2023 gains. The move below $22k opened the gates to a quick drop to $20k, where the market found support at the round number.
Bitcoin's volatility is well-known. Unfortunately, such sharp drops or quick gains are not unusual in the cryptocurrency market.
Nevertheless, even after the recent drop, Bitcoin is still up significantly in 2023. Its YTD performance is 23.62%, remarkably considering the turbulences that affected investors' trust.
Recently, Bitcoin has also experienced an unusually high correlation with the US stock market. As such,  investors in the cryptocurrency market are keeping an eye on the S&P 500 index too. Affected by the Fed's tightening cycle, the stock market had difficulty rallying – so did Bitcoin.
Moving forward, how the Fed responds to the SVB failure remains to be seen. Also, what will it do at its March meeting – raise the funds rate by 25bp or 50bp? Until then, the chances favor a longer consolidation for Bitcoin price at around $20k.
For more news at Break'n News – click here
Break'n Pics – Click here for Free Stock Photos
GoCoin – Latest Cryptocurrency News and Trading